Al.waays Samir mahdi salih
Asst. Lecture
University of Diyala
college of Education for human sciences
Department of Geography
Key word: visual, road, jadidat.
Abstract
In this current study, aims to limitation of visual pollution views for international road (No:3) between jadidat Al — shatt and AL-khalis and its negative effects, This kind of pollution considers a new problem faces most of Iraqi international roads, This phenomena came through out the limitation of spatial comprehensive definition for the visual pollution phenomena as a visible photo for thing don't a cope with beauty, social, culture, psychological values, this condition creates unbalance between the environment and urbanization by spread of pollution substances along the study area and makes a negative relations between environmental urban elements in spatial geography.
Research problem:
The research problems in this study including: whatare the aspects of non beauty and visual appears in the study area?
Research Hypothesis:
Are there many phenomena's that reflect visual and beauty pollution and its effects on the beauty in a part of international road from Jadidat AL-Shatt and AL-Kalis district.
Aims: the research aims to uncover about the reality of the visual problem pollution in the study area and limits its spatial dimentions and its environmental effects.
Objectives:
1. Lack of studies about visual pollution in general specially Geographical studies.
2. Limitation of the pollution areas and alert of the city management staff about this problem.
Study Area:
The study are starts from Jadidat AL-Shatt county ends with AL-Kalis district in which amount 30 Km and there are many rural settlements within the study area from these area ,Barkash , AL-Huiash , AL-Ksaireen , villiages also Alkhalibia , Hibhib , AL-Zahra and ends in AL-Kalis district . This area locates within AL-khalis district in which locates between longitude and latitude North of Baghdad capital.
Map 1- AL-Kalis city location and its suburbs Boundaries in 2017 (AL-Kalis statistical Directorate, Gis unit, 2017.
First Section
Visual Pollution Concept:
Visual pollution is the concepts appeared in new year. It's one kind of pollution connected by the city growth , It's called a distortion of city visual scene or challenges for the elements of structure ecology in the city this case causes a decline of life quality (1). This case has an effects against buildings because of many reasons may be economical, social and cultural(2) so every work by human causes harmful is unusual and leads to environmental pollution(3).
The reason Of Visual Pollution Phenomena In The City:
There are many reasons responsible for visual pollution phenomena from these reasons. The city considered a beauty format includes ecology, History, Geography, Logical, Political, economical, engineering dimensions. It is structure entity. The new culture in which started after the industrial revolution .It changes the old culture and replaces many signs and concepts dominant for a long centuries these changes gradually a cope with the advance of society so the main reasons of visual pollutionphenomena are :
1. context.
2. planning reasons.
3. Behaviour reasons.
4. The increase of population density.
5. economical differences.
6. political and military factors.
7. scientific development.
Second Section:
The visual pollution appearance divides into two types
First: physical by the action of buildings and planning.
Second: Behavioural through persons actions.
The most prominent features in the study area as follow:
1) The random spreading of dirty along the international road that connects between the capital Baghdad and AL-Kalis city, and spread of dust because of the movement of vechicles. photo No (1)
Photos (1)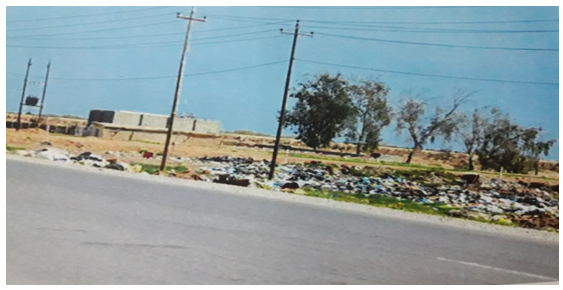 2) Spread of generic animals that affect on traffic. It causes many accidents, the spread of these animals considers one of the main dangerous appearance as previous mentioned. It must put a fences upon two sides of road to prevent animal to reach the road see photo No (2).
Photo (2)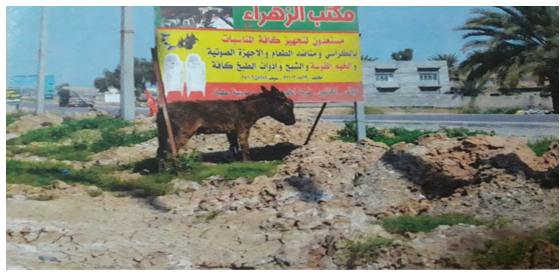 3) The spread of showers and (WC) in random way . Through out the collecting of facts in the study area about visual pollutions we find a phenomena relates of spreading showers and (WC) this side is one of visual pollution photo(3).
Photo (3)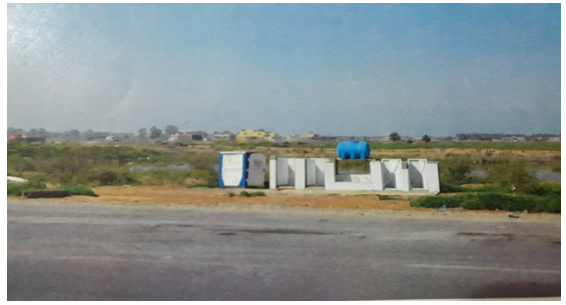 4) The spread of advertisement boards in the road. The spread of advertisements and hanging places their sizes and its industry substances due to a harmful dimentions for the road view. photo No (4).
Photo (4)
5) Unorganized industrial stores :
In any city has not governed by system, roles, laws, the result becomes outside of context so it causes increasing of visual pollution photo no (6)
Photo (5)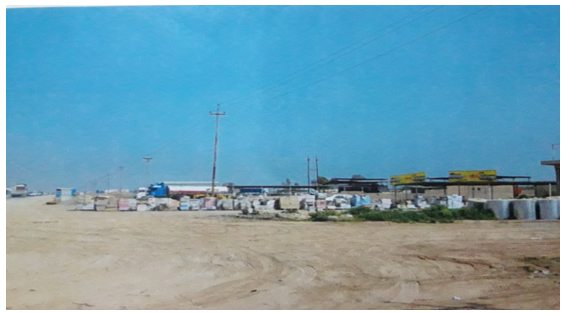 6) Some ruin building and not completed. This case belong to the house owner he leaves it along period without work then it seems to be unreal photo No (6).
Photo(6)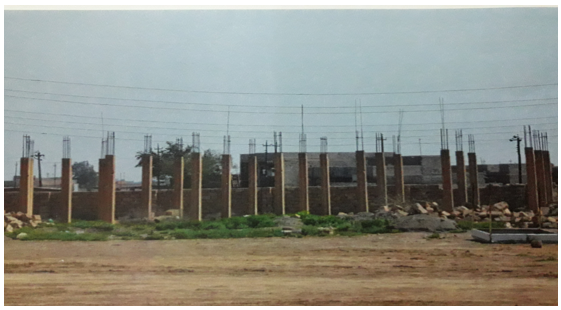 7) Educational Land uses in the study area. Spread of many schools along the road considers one of visual pollution this cases belong to designs and the uses colours , also these locations bring a dangerous conditions among pupils lives photo NO (7).
Photo (7)
8) The residues of agricultural machines and misusage of administration:
There is a lot of stores behind the road this case belongs to misusage of administration and maintenance, this case leds to visual pollution photo (8).
Photo (8)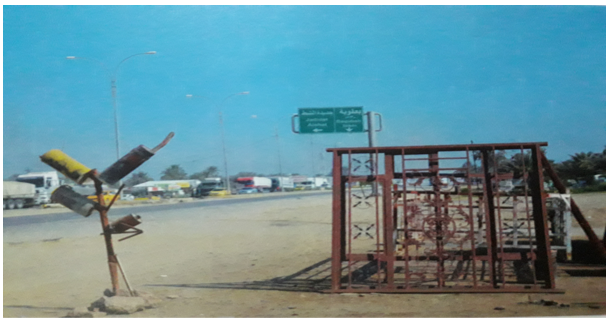 9) Morland and marshes on two sides of road this condition owing to lackage of drainages of water photo N0 (9).
Photo (9)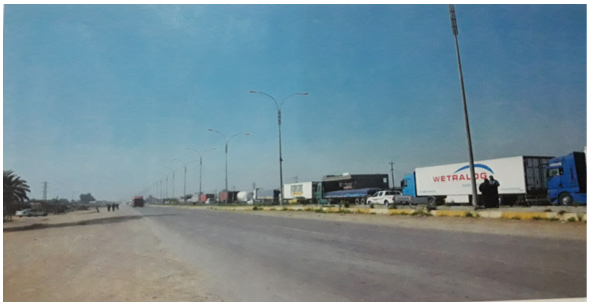 10) Traffic crowding
The disparity of traffic during the morning time at 7.30 to 8.30 and during 3.30 to 4.30 o'clock this case belongs to movement of population related to their jobs etc.
Recently the traffic increased because of economical changes photo (No) (10).
Photo (10)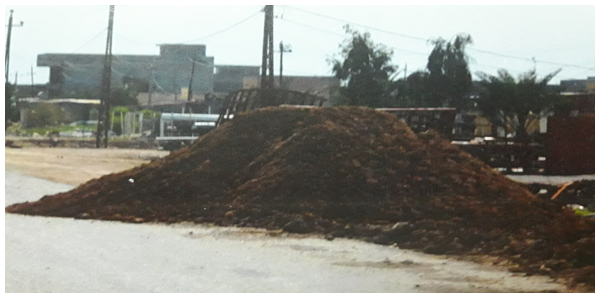 Conclusions
1. The study of visual pollution has a great importance to gain a suitable environment achives prosperity for human.
2. The study are suffers from spatial anarchy because of planning, social, economic reasons.
3. The most prominent features of pollution is the Traffic and misused of planning.
4. The absent of beauty view for the base design of international road.
5. The study reveals a visual pollution on international road because of military events and the weak of healthy and ecology watching and the absence of laws
Recommendation
1. limitation of Land use near international roads and maintaining of agricultural land use .
2. comprehensive studying of the area through out committees and participating of special people to take a decisions .
3. lighting of road specially nearby entrances of cities
4. The administration of province must playa great role in paved roads.
5. cultivation of forests along the road and put a singns of traffic to events
References
Abu-Al-Dyoon, Abdul raheem Ashraf, development ofurban clusters that urban value as a planning organizations fulfil the establishment of Egyption modern city Alminyah university 2008.
Al-Jazaf Abdul Ameer visual pollution in the city, our ecology magazine, general organize for ecology Al Kuwait state, No 91 Al Kuwait 2011 P2-3.
Al-hadad Malik visual pollution and bricks culture new Al phabet magazine 2008.
Khaleed Muhammed Talal Jameel, Analysis in visual pollution department of visual pollution in trade streets hypothesis Al-Najah university Palestine 2009.
Rathwan magdi Muhamed and Muhammed abdulsameeh Abed the effect of urban growth for cities on urban environment conference of engeenering researches in developing states 1991.
Sameer Mahisaleh, visual pollution in Baquba (c p d) moster thesis (unpoplished) college of education for human sciences Diyala university 2013p24-25.
Al-sabeeh, Ali Mustafa Muhawiss visual pollution appearances in Al-Basrah city, master thesis college of Art. Al- Basrah university.